Products
The name:
Original V1.06.08 Diagspeed MB Key OBD2 Mercedes Benz Key Programmer
Model:

View Enlarge Image
Description:
Original Diagspeed MB Key OBD2 Key Programmer Mercedes Benz Key Programmer

Support Password Calculating 6 times per day for free.
Professional equipment for the manufacture of electronic keys Cars Mercedes, better than MB BGA Tool Key Programmer
A176 A169 A168 B246 B245 C204 C203 C202 E212 E211 E210 E207 S221 S220 CLA117 CLK209 CLK208 CLS218 CLS219
CL216 CL215 SLK172 SLK171 SL231 AMG190 SLS197 M166 M164 W463 W639 ?W906 GLS166 GL164 GLK204 GLA156 R251
Update from server free of charge? ? ? ? (ask for new adapter )
READ BGA KEY AND ALL KEY LOST TIME 5 MINUTES DIRECT LOAD TO SERVER FREE NO TOKENS
UPDATE FREE FOR ALL USERS?
W212 W207 W204 W221 W164 W172 W218 W166 W76 W117 W246 ALL KEY LOST FREE NO TOKENS
Diagspeed MB Key OBD2 Key Programmer ?Features:
Renew Esl used ?and personalized without open by k-line ?free online no tokens?
Reset ezs free online no tokens
Reset 7G .ISM .ECU MOTOR ?free online no tokens
Generate key online no tokens?
Update new software free no tokens
Make key for all car even if car with BGA KEY the new key BY OBD2 exclusive only with our device up to 2015
Read write Reset all model Ezs new and used . Renew used Esl and personalized used and new Esl. by obd2?
Reset and personalized w204 w207 w212 emultator?
Write vin number on Ezs 7G ISM. reset odometer in Ezs BY OBD2?
Renew Ecu motor from 2001 to 2014 all model Diesel & GASOLINE ?BY OBD2?
Renew 7G all number 722.9 BY OBD2 Renew ism BY OBD2?
Read write RESET BE key by IR without soldering and read password?
Renew all number Nec key on board and keyless go Generator key include. in 30 sec calculate 8 key?
Read Password 51 & 57 Test RF remote control Restoring original data key if lost?
Read Password Nec keylessgo 08 - ?06 - ?42 ?BGA 62-75-78-79 ?Nec 51-57 ?BE KEY CHINA ?(without soldering)
All key lost W212 W172 W166 W218 W117 W246 W176 ? ?(without changing ezs)
All key lost W204 W207 W164 W221 W216 ? ? ? ? ? ? (without changing ezs)
All key lost W203 W209 W211 W220 ? ? ? ? ? ? ? ? ? ? ? ? (without changing ezs)
Diagspeed MB Key OBD2 Software Display: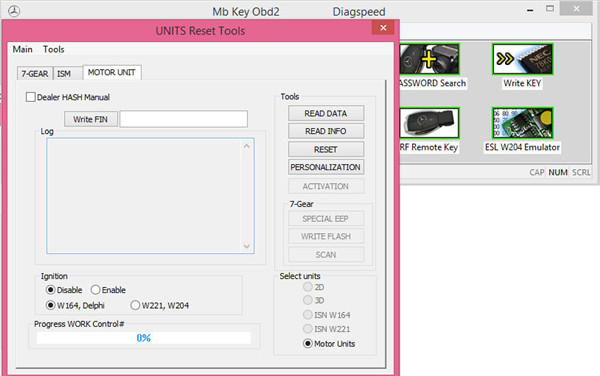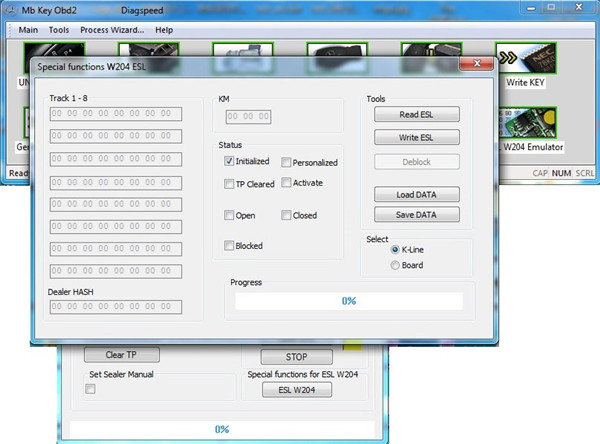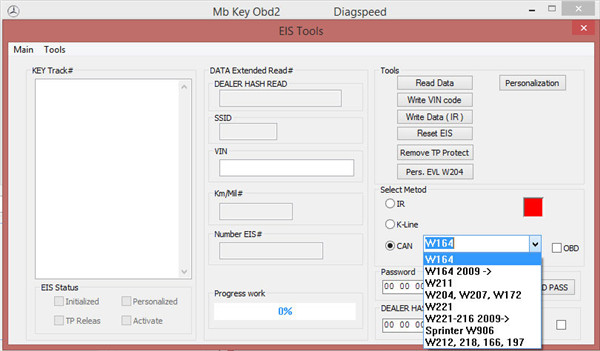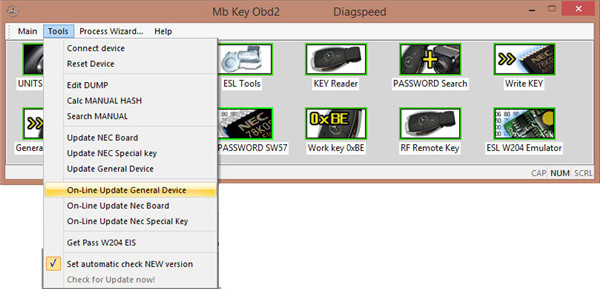 Package List:
1pc x Diagspeed Mercedes-Benz Key Programmer by OBD2