Products
The name:
XTOOL X100 Pro2 Auto Key Programmer

View Enlarge Image
Description:
XTOOL X100 Pro2 Auto Key Programmer

XTOOL X100 Pro2 Highlights:
1. Support most European, American, Asian and Chinese Cars on key programming functions
2. One Key Update via Wifi on Officail Site. Upgradeable via web-based download, Upgrade step, please reference page 11-14 on user manual.
3. One Year Warranty.
4. Support Multi-language: English, Spanish, Portuguese, French, German, Russian, Polish, Italian and Chinese
Notice:
1. Xtool X100 Pro is a key programmer, please don't count on too much on the mileage correction functions.
2. Dealer Code: XT0240
Description:
Xtool X-100 Pro2 is updated version of X100+, including X100+ all the matching function and add new software function. This scan tool has a simple and robust design, to make your vehicle service experience much easier!
Support Reset ECM and reset immobilizer, read keys from immobilizer's memory, vehicle indentification number programming.
Features:
1. New keys programming
2. Read keys from immobilizer memory
3. New immobilizer programming
4. New mechanical key number programming
5. Vehicle Identification Number programming
6. Reset ECM & Reset Immobilizer
7. Easy to operate by guiding menu programming
8. New remote controller programming
9. With full and strong database for the most important vehicle makes
10. Upgrade via web-based download
XTOOL X100 Pro2 Vehicle Coverage:
Region
Function
Immobilizer
Odometer Adjustment (Support Partial Models Only)
Asia
Toyota; Honda; Acura; Mazda; Lexus; Mazda; Nissan; Infiniti; Mitsubishi; Subaru; Suzuki; KIA; Hyundai; SSANGYONG; QNLUTUS; Mitsuoka
Hyundai; Infiniti; Isuzu; KIA;
Mazda; Mitzubishi; Nissan; Proton; SSANGYONG; Subaru;
Suzuki
Europe
Audi; VW; Skoda; Seat; Porsche; Opel; Citroen; Peugeot; Jaguar; Land Rover; Renault; Benz; Ferrari; Fiat; Maserati; MG; Smart; DS
Audi; Bentley; Benz; Citroen; Ferrari; Fiat; Jaguar; Land Rover; Maserati; Peugeot; Porsche; Renault; Seat; Skoda; Smart; Volvo;VW
America
Lincoln; GM; Chrysler; Ford
Buick; Cadillac; Chrysler; Ford/Lincoln; GMC; Hummer; Oldsmobile; Opel; Pontiac; Saturn
China
Changan; Changfeng;Changhe; Chery; Brilliance; BYD; Huapu; JAC; Lifan; GreatWall; HNMAZDA; Lufeng; Roewe; SQYL; ZZNISSAN; Luxgen; Geely; Hongqi; Hawtai; Besturn; Baic; Baojun; Dffengshen; Dfliuzhou; Betpurn
Besturn; Geely; Greatwall; MG Roewe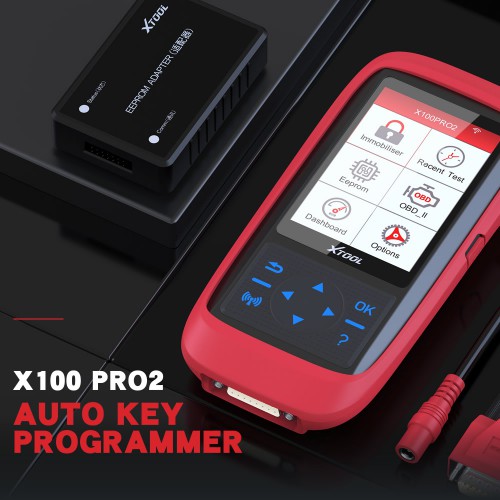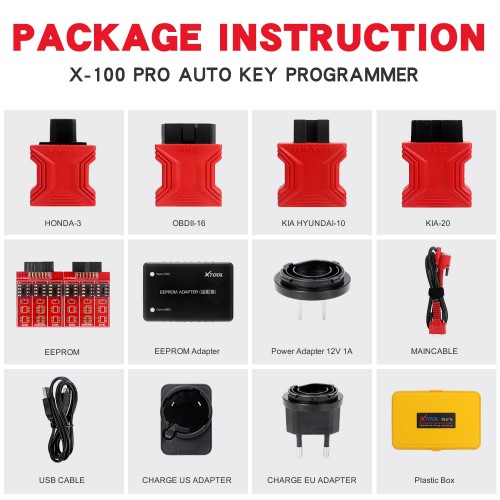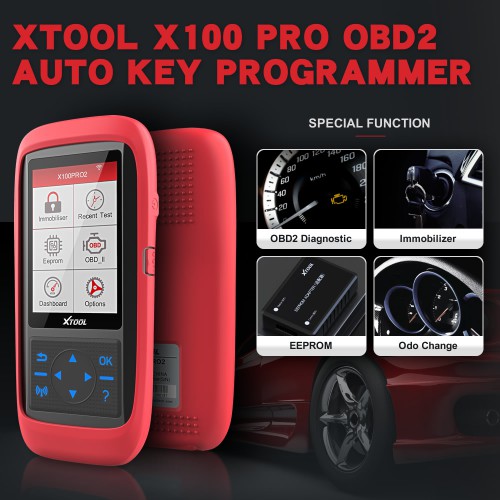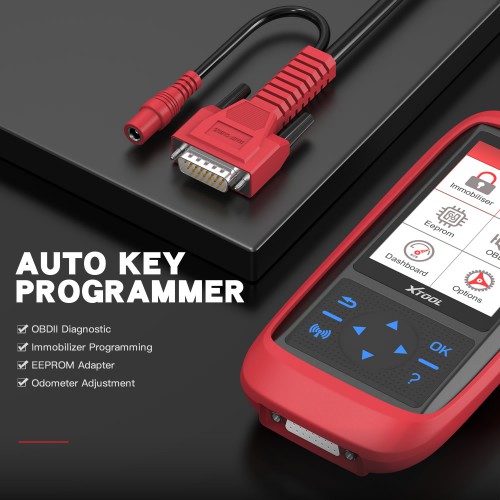 OBD2 Diagnostic: Can read Engineer systems error code via the OBD2
EEPROM: Works for some old car models not suit the obd2 can work with the eeprom contact with ,also can work for some chips
ECU Reset: When your ECU get any Error code keeps shows problems this x100 pro can make Reset for the ECU