Products
The name:
Autel MX-Sensor TPMS 433MHz Sensor 433 For Tire Pressure Universal Pro
Model:

View Enlarge Image
Description:
Autel MX-Sensor 433MHZ Programmable Universal TPMS Sensor
MX-sensors (315MHz & 433MHz), the programmable universal sensors, are both smart and efficient specially built for sensor replacement to perform like OE sensors, in terms of signal interval, durability and functionality supporting up to 99% of the USand Canadian vehicles. The SKU sensor solution that covers over 98% of all OE sensors on the market will greatly simplify your inventory management and lower investment and sales loss.
HOW To Use TPMS Sensor 433Mhz/315Mhz ?
1. Placing order . At First , before placing order ,pls make sure you can get these two Products in the Photo,Programming Accessory/ Activation Tool (TPMS PAD /EL-50448).
2.Programming. pls use TPMS PAD Tool programm ID for new 433Mhz/315Mhz Sensor after replacing Sensor.
3.Activate Sensor. pls use TPMS Activation Tool El-50448/50449 activate your NEW Tire sensor 433Mhz/315Mhz.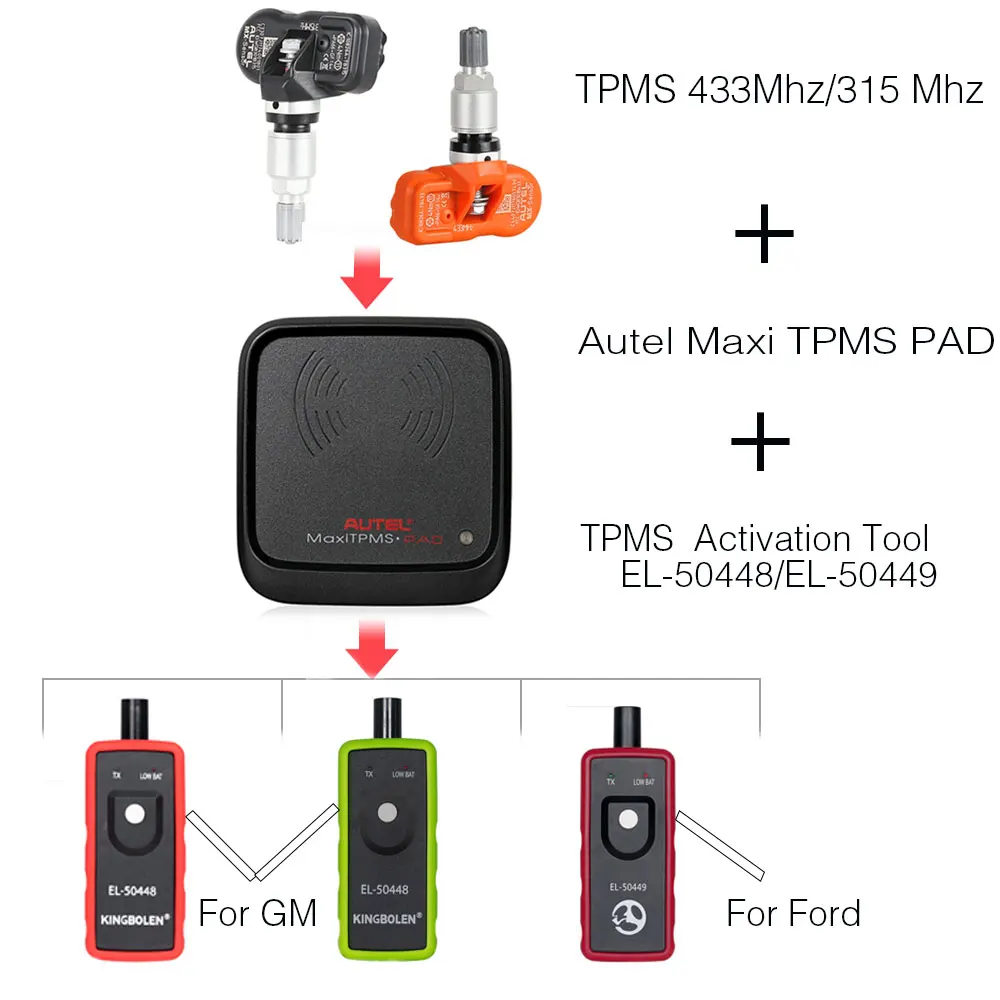 If you need Autel TMPS PAD, please check it here:
https://www.aliexpress.com/store/product/Hot-Sale-Autel-MaxiTPMS-PAD-TPMS-Sensor-Programming-Accessory-Device-and-Autel-MX-Sensor-433MHz-315MHZ/803871_32547475271.html?spm=2114.12010612.0.0.808412ej1NqG6
If you need El-50448/EL-50449 ,pls click here.
Features:
Built to perform like OE sensor, in terms of signal, durability and functionality
Automotive battery grade to meet severe weather conditions
High-precision air valve to prevent air leakage
Replaceable aluminum valve stem is anodized for corrosion resistance
Robust clamp-in pivoting stem design allows for 0-35 degree angle adjustment to fit all types of wheels
Fast and simple assembly onto any wheel
Specifications:
Battery Life : ≥5 years
Operating Temperature : -40C to +125C
Storage Temperature :-40 C to +150C
Operating Humidity: 90%
Operating Frequency: 315MHz & 433MHz
Pressure Monitoring Range: 0 to 900kpa
Pressure Reading Accuracy :±10kpa
Temperature Reading Accuracy :±5C
G Sensor Reading Accuracy: ±15%
Transmission Power: 5-8dBm
Battery: 3.0V
Dimensions (W x H x D): 52*29.1*22.2mm(11388mm3;)
Weight: 17.5g