Products
The name:
obdstar X300M OBD II odometer correction tool
Model:

View Enlarge Image
Description:
?
obdstar X300M OBD II odometer correction tool
?
1. Product Description
X300M is another new odometer adjustment tool launched by OBDSTAR. It's designed completly according to industrial standard.It's easy to take away and shockproofed.

2. OBDSTAR X300M Vehicle Coverage:
?
AUDI/VW/SKODA/SEAT, BENTLEY, BENZ, BESTURN, CHRYSLER(CHRYSLER/DODGE/JEEP), CITROEN, FORD, FIAT, GEELY, GM(BUICK/CADILLAC/CHEVROLET/HUMMER), GMC, GREATWALL, HYUNDAI, INFINITI, JAGUAR, KIA, LANDROVER, MAZDA, MITSUBISHI, NISSAN, OPEL, PEUGEOT, PORSCHE, PONTIAC, PROTON, RENAULT, ROEWE, SATURN, SMART, SSANGYONG, VOLVO ?etc.?
?
OBDSTAR X300M Software Update:
?
Free update for 1 year on official website www.obdstar.com.

?Language:?English
?
OBDSTAR X300M Features: Odometer adjustment (All cars can be adjusted Via obd), it is standard configuration: Odometer adjustment + OBDII
?
3. Feedback:
?
hyundai?Accent?2011...?by?obd?in?2?seconds
Mileage?
focus?2013?OK
fiesta?2012?OK
grand?punto?2010?OK
punto?2007?OK
grand?cherokee?2013?OK
astraj?2010?2011?2012?NOT?OK
Fiat?fiorino?obd?ok
Audi?A4?2007...?in?20?seconds?by?OBD.
2013?jetta?mono?display?ok.?
Chevrolet?CRUZE?2012,?Read?security?code?ok?and?Mileage?ok
Cruze?13?miles?ok?
Volkswagen?Amarok?2014?ok?(?chose?golf?NEC?24C64?white?meter?2013-)
Porsche?Cayenne?2012?mileage?OK
Skoda?Octavia?2010?nec+24c32?VDO?mileage?OK
Skoda?Superb?2012?via?obd?mileage?ok
Polo?2004?VDO?k?Line?mileage?OK
have?made?KM?visteon?dash?95320?vw?golf?5?with?success,?just?plug?and?play?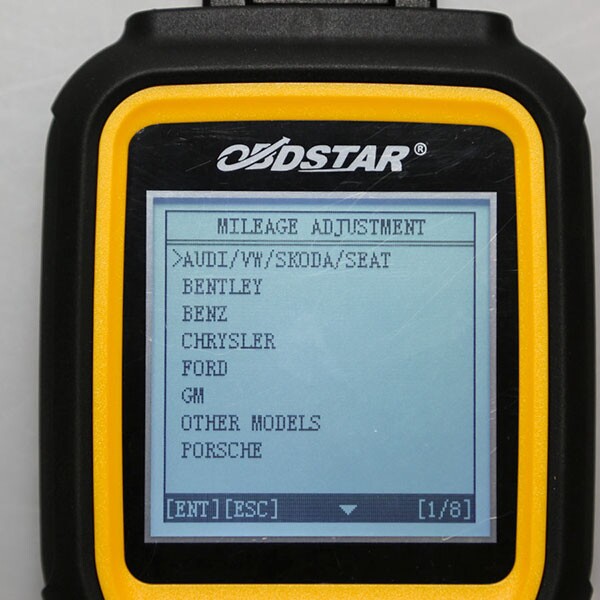 4. Packing list:

1pc x ? X300 M main unit
1pc x ? Main cable
1pc x ? SD card (Host memory card)
1pc x ? SD card reader
1pc x ? X300 M user's manual
1pc x ? OBDII-16 connector