Products
The name:
LAUNCH X431 PAD V Online Programming Automotive Diagnostic Tool
Model:

View Enlarge Image
Description:
LAUNCH X431 PAD V Online Programming Automotive Diagnostic Tool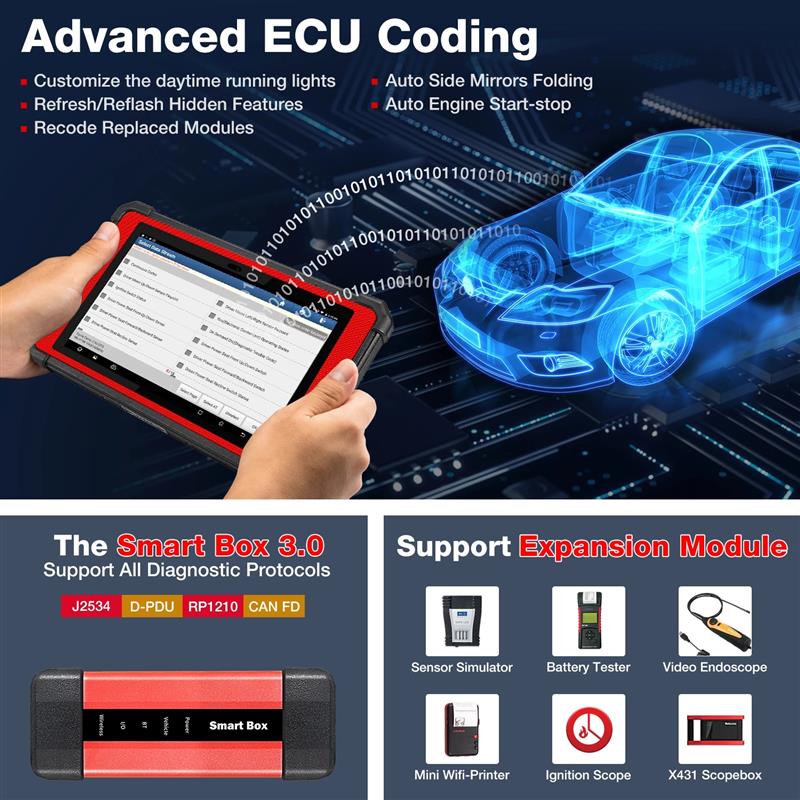 LAUNCH X431 PAD V SmartLink Box Automotive All System Diagnostic tools, All-in-One Diagnostics & Services, J2534 ECU Programming, Bi-Directional Control, 30+ Special Functions, 6GB RAM + 64GB memory (can up to 128GB)
LAUNCH X431 PAD V is a high-end comprehensive diagnostic tool with charging base newly developed on the basic of Andriod 7.1. LAUNCH X431 PAD V supports dual 2.4 GHz & 5 GHz Wi-Fi communications, featuring wide vehicle coverage, powerful diagnostic functions, and accurate test dates.Its IP65 enclosure provides excellent water and dust resistance, making workshop work easier and more comfortable. All these unique features will give you a luxurious vehicle diagnostic experience.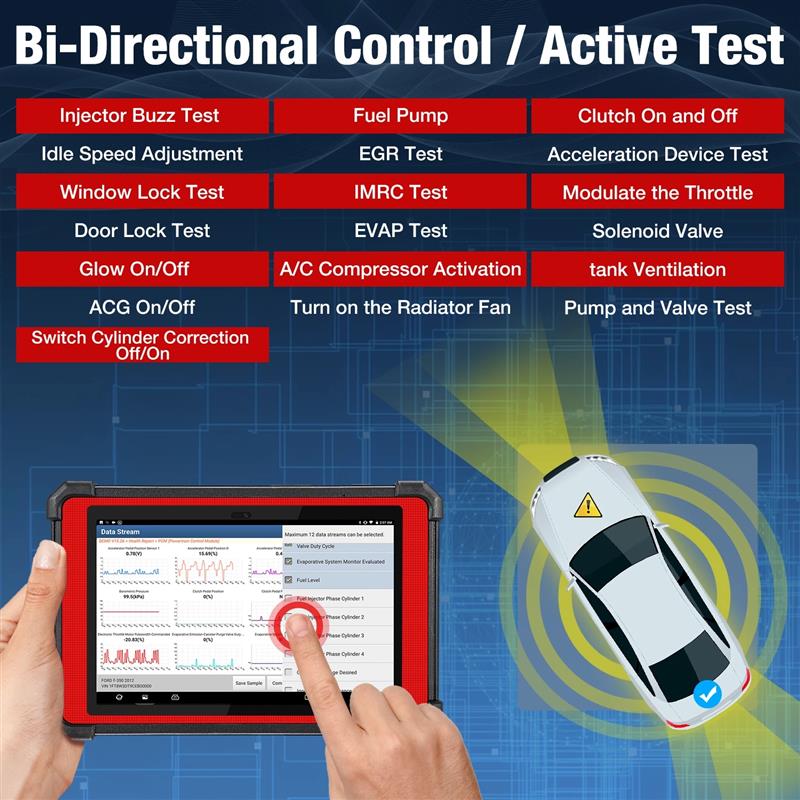 The Advantage Function of LAUNCH X431 PAD V - J2534 Online Programming
LAUNCH X431 PAD V supports programming and coding, that is, using electronic communication transmission technology to write the relevant control information of the software into the programmable EPROM or FLASH of the car computer.

Using the LAUNCH X431 PAD V online programming function, it is safer and faster, even if you fail in the programming process, the LAUNCH X431 PAD V allows you to reprogram without destroying the ECU.
This function is only required if any of the following conditions apply:
1) A new ECU is replaced;
2) The ECU doesn't work properly;
3) The ECU is required to update the software version;
4) After the vehicle completes routine self-diagnosis (read and clear DTCs, read data streams, andactuation tests), its malfunction still exists.
LAUNCH X431 PAD V support intelligent recognition of programming files, which is convenient and quick to operate.
Support for Mercedes-Benz, for Benz New Energy, for BMW, for BMW New Energy, for GM, General New Energy, for Ford,Ford New Energy, for Volkswagen, for Volkswagen New Energy, for Audi, for Audi New Energy, for Land Rover, for Nissan,Skoda, for Seat, for Mazda and other models Programming function.
LAUNCH X431 PAD V works Smartbox V3.0 diagnose connector, it supports All diagnostic protocols: J2534 protocol + D-PDU protocol + RP1210 protocol + CANFD+DOIP protocol
What's more, LAUNCH X431 PAD V supports DOIP/CANFD protocol, it is also suitable for FCA vehicles from 2017 and later, with Security Gateway Module (SGW) (This function is free in the Americas. In Europe, the function needs to be subscribed on the official website first)
Please note:
1. this function need contact us to active first, then you can use it .
2. this Function does not work in Spain and North America (except for Nissan and for Infiniti cars)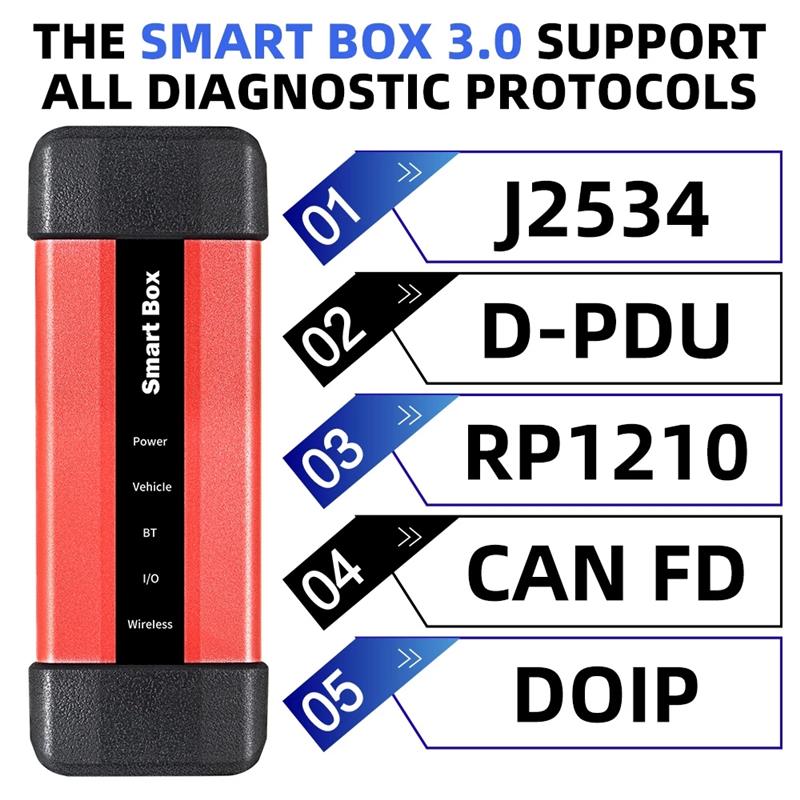 LAUNCH X431 PAD V supports diagnosis of all systems of the car
LAUNCH X431 PAD V can diagnose the electronic control system of prevailing vehicle models covering Asian, European, American and China. Full range car models and full car system diagnose make it aprofessional automotive diagnostic tool.

Include: ABS System, Engine System, SAS System, TPMS System , IMMO System, Battery System, Oil Service System, SRS System, DPF System, Air Conditioning System, Transmission System, ect...

Diagnosis functions include: Read DTCs, Clear DTCs, Read datastream, Actuation Test, AF Adjustment, ECU coding and More 30 Special Function ect...
LAUNCH X431 PAD V supports ECU Coding & Active Tester (Bi-directional control)
1. Active Test
Enables you to transmit control commands to operate vehicle systems without using vehicle controls to verify system inputs and outputs,

such as Turn on the radiator fan / Turn on interior & exterior lights / Turn on sound horn / Modulate the throttle / Open & close windows / Operate mirrors / Test door lock actuators/ Injector Test ; Turn Off ACC Lane Keeping Assist System (LKAS) ; Turn ON/OFF Front and Rear side ACM Solenoid, turning the fuel pump on and off, cycling the a/c , clutch on and off, Left clutch electromagnetic coil test,Acceleration Device Test, Oil Pressure Control Test, DYNAMIC camera aiming, Vehicle level position calibration, Brake Vacuum Pump, Inlet and Outlet Valve tests, Open Brakes tests, Parking Brake Botors, Wheel Speed Sensor Supply, PARKING BRAKE tests (Vary by car, Hundreds of actuation test functions …
2. ECU Coding
ECU Coding is used to re-flash the vehicle control modules, it allows you to reprogram adaptive data of certain components after making repairs or replacements, providing ways for the issues of Drivability, Fuel Efficiency, Power Loss, Fault Codes, Durability of Mechanical Parts. This function is applicable to 98% of the models (including for BMW, for Volkswagen, for Porsche, etc.)
LAUNCH X431 PAD V supports TPMS Diagnostic function
This function needs to cooperate with X431 TSGUN to realize TPMS activation, programming, learning and other functions.

a) Activation: to activate the sensor's IlD, wheel pressure, sensor frequency, tire temperature and battery status.

b) Programming: to program sensor data to a blank sensor, so as to replace a sensor that is in low battery and does not function properly. Three sensor programming methods are available: Automatic, Manual and Copy by Activation.

c) Learning:to write the sensor ID into the vehicle ECU for sensor identification.
LAUNCH X431 PAD V supports Guided Functions for Volkswagen and for Audi Brands
X431 PAD V has guided functions among all online products of LAUNCH.

The guide function shows all the specific operation instructions step by step, and automatically runs the instructions for resetting, matching, coding, etc.

You just need to follow the instructions and click complete/continue to do it. A good helper to help you find your way during the repairing process.
LAUNCH X431 PAD V supports Accurate ADAS Calibration Function
Advanced Driver Assistance System (ADAS) are electronic components in a vehicle that include various vehicle safety features such as Automatic Emergency Braking (AEB), Lane Departure Warning (LDW), Lane Keeping Assist, Blind Spot Elimination, Night Vision Cameras.

(NOTE: This function needs to be used with ADAS tools)
LAUNCH X431 PAD V support Key Programming Function
>> Add, Delete and Reprogram Keys

>> Rewrite smart keys, All smart keys lost, Replace smart key ECU, Replace KNOB IGNITION

>> Reset Key: Relearn a key
LAUNCH X431 PAD V supports 31+ kind of Reset Service Functions:
(Please Note: You can find 15 kinds of commonly used reset functions in the reset menu, and other special functions can be found in the car brand diagnostic software menu)
1. Oil Lamp, Oil Reset Service
allows you to perform reset for a new calculation of Engine Oil Life system once changed the oil.
2. EPB, Electronic Parking Brake Reset
It is very important to maintain the safety and efficiency of the electronic braking system.
3. BMS, BAT, Battery Maintenance, Battery Register
Allows scanning tools to assess battery state of charge, monitor closed-circuit current, register battery replacements, and activate vehicle standstill.
4. DPF Reset, Diesel Particulate Filter Regeneration
Particularly suitable for diesel particulate filter systems with DPF regeneration, DPF component replacement teach and DPF teach after engine control unit replacement.
5. SAS Reset, Steering Angle Calibration
Helps to clear faulty steering angle sensor memory and plays an important role in steering angle sensor calibration.
6. TPMS, Tire Pressure Monitor System Reset
Makes sense when displaying sensor IDs from the vehicle ECU, entering TPMS sensor replacement IDs, and testing sensors.
7. Anti-theft & IMMO Resets
It is primarily used to disable lost vehicle keys and program new replacement key fobs.
8. ABS Bleeding
ABS brake bleeding to get a firm brake pad after air exhaustion.
9. Throttle, Electronic Throttle Position reset/learn
The throttle body is a tube that contains a flat, rotatable valve (butterfly) that controls the amount of air entering the engine. In an electronic fuel injected vehicle, the throttle position sensor and air flow sensor communicate with a computer, which provides the corresponding amount of fuel required by the injectors. Throttle sensor position must be relearned after cleaning or repair.
10. Gear Learning
Leaking injectors and some dead injectors can be missed even when an injector is disabled. Other problems with the ignition system and mechanical components may also not show a loss of revs when the injectors are turned off.
11. AFS Reset (Adaptive Front lighting System)
It detects the light of the environment, and then decides whether to turn on the headlights automatically. It can also adjust the headlights in time by monitoring the speed and posture of the vehicle.
12. SUS Reset
When the body height sensor and control module in the air suspension system are replaced or the level of the car is wrong, this function needs to be performed to level the body height sensor.
13. EGR Adaption
Reduce nitrogen oxides (NOx) in the exhaust gas and improve fuel economy at partial load.

More features are waiting for you to discover.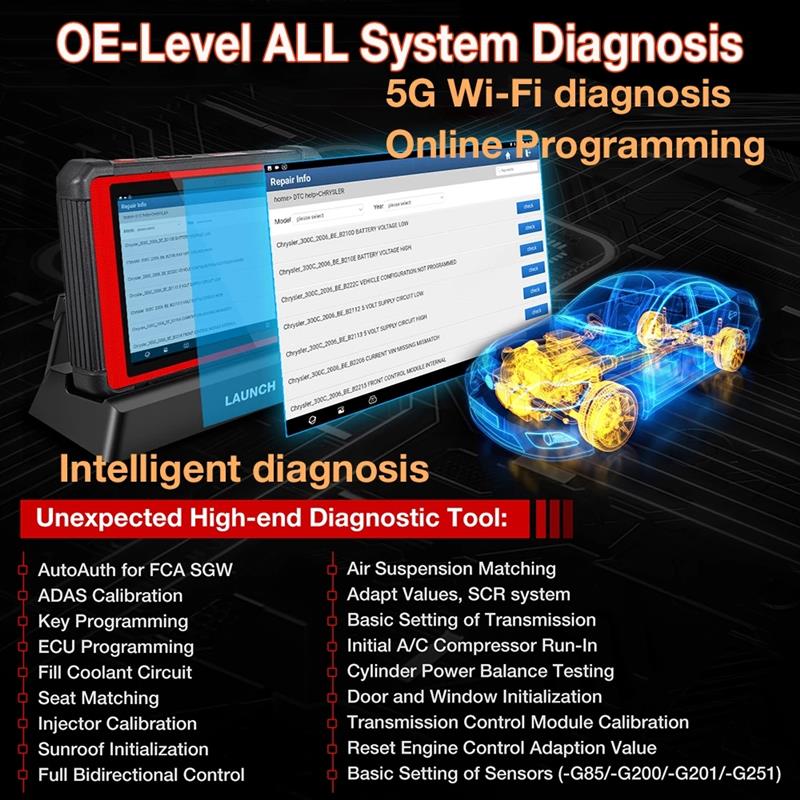 LAUNCH X431 PAD V Tablet Parameter :
Operating System: Android 9.0
CPU: 8-core Processor,2.OGHz
Battery: 7000mh, rechargeable polymer lithium battery
Extension memory card: 64G(Can up to 128GB )
Storage capacity: 4G
LCD: 10.1 inch
LCD resolution: 1920*1200
Touch screen: IPD touch screen
Cameras: 8MP front-facing camera+ 13MPrear-facing camera
Wi-Fi: 2.4G/5GHz Dual Frequency
Connectivity: Wi-Fi (802.11 blg/n/ac)/Universal serial BUS Ports (1 x Type-C +1xType-A)
Sensor: Gravity Accelerometer/3-Axis Acceleration Sensor
Working temperature: 0℃~50℃
Storage temperature: -20℃~70℃
Smartbox VCI Parameter :
Working Voltage: DC 9v ~36V
RAM: 256M
ROM: 8GB
USB: Type Bx 1
Wi-Fi: 2.4G/5GHz Dual Frequency
Power: ≤6.6W
Working Temp.: o℃ ~ 50℃
LAUNCH X431 PAD V Packing List
X-431 PAD V 10" Tablet PC
SMARTBOX 3.0 Diagnostic connector
X-431 PAD V Charging Slot
For AUDI-4PIN Cable
For BENZ-14PIN Cable
For BENZ-38PIN Connector
For BMW-20PIN Connector
For CHRYSLER-6PIN Connector
For DAIHATSU-4PIN Connector
For DAEWOO-12PIN Connecto
For FIAT-3PIN Cable
For FORD-6+1 Connector
For GAZ Cable
For GEELY-22PIN Connector
For GM/VAZ-12PIN Connector
For HONDA-3PIN Connector
For SSANGYONG-14PIN Cable
For SSANGYONG-20PIN Connector
For SUBARU-9PIN Connector
For SUZUKI-3PIN Cable
For TOYOTA-17PIN Connector
For TOYOTA-22PIN Connector
For UNIVERSAL-3PIN Cable
OBD I Adapter
X431 OBD2 16PIN Extension Cable
X431 PAD4HD USB A-B Cable
US Power Adapter
Cigarette Cable
Clip Cable
X-431 PAD V Touch Pen