Products
The name:
launch ArtiPAD 1 Diagnostic Tool Support multi-meters/Battery Test/Osc
Model:

View Enlarge Image
Description:
?
Launch ARTIPAD 1 with remote control ECU reprogramming 1 year free update online
ArtiPad I is an evolutionary smart solution for car diagnoses based on the multitask-capable Android operating system.This diagnostic tool delivers quick and complete diagnoses to solve problems more efficiently, significantly decrease downtime and increase revenue.
?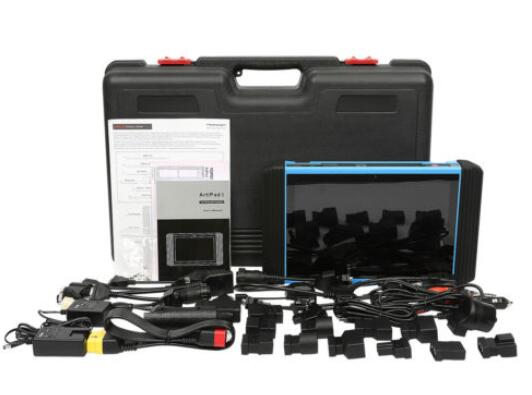 Bullet Point:

ECU CODING & PROGRAMMING: With VCI device, this diagnostic tool is capable of ECU programming for varies car models; access to instant Remote Control Tech Support for operation anytime and anywhere

EXTENSIVE COVERAGE: This exceptional OE-Level functionalitydiagnostic scanner is available for over 80 1996 US-based, 2000 European-based and newer OBD2 protocol vehicles with full OBD2 functions, 11 special services and full systems diagnoses

EXCELLENT PERFORMANCE: Worked with X-431 Scopebox and Videoscope of LAUNCH, this auto scanner provides users with an insight to the inner work of a vehicle's electronic circuits

TECHNICAL SUPPORT: This diagnostic tool supportsfirst-hand troubleshooting of diagnostic bugs and errors,and one-stop multitasking design for ideal management of workshop operations to keep all data files, customer information, and vehicle records well organized

THOUGHTFUL DESIGNS: With rubberized outer protection and a rugged internal housing, this diagnostic scanner is sturdy and durable. 12-in touch screen enables several wavelike data comparison on which a malfunction will stand out

Notice:
Please close antivirus software when the software is updated


Warranty:
12-month warranty for any quality problems
First 3-month warranty for free refund or replacement
Free update for 1 year

Features:

1. Exceptional OE-Level functionality from comprehensive OBD2 diagnostics & services to advanced ECU coding and programming
2. Interactive Data Logging sessions enable direct contact with professional tech support for first-hand troubleshooting of diagnostic bugs and errors
3. Unparalleled sensor coverage for most vehicles worldwide
4. Reads data including sensor ID, tire pressure, temperature, battery condition, OE part number, relearn information
5. Checks Remote Keyless Entry (Key FOB) for transmissions
6. big screen enables multiple data comparison to easily analyze results
7. Pre-selection process offers you faster activation and diagnostics
8. Proper LF signal to prevent being fooled by other RF signals
9. Save up to 10 TPMS records for future data review
10. Automatic power-off to preserve battery life
11. Modular design allows for future capability expansions
12. Small 5.5mm diameter head allows it to be used in the tight spaces
13. Wonderful up-close visual inspections in confined areas, such as engine cylinders and small part inspections