Products
The name:
SEC-E9 CNC Key Car,Truck,Motorcycle,House Key, Dimple&Tubula keys
Model:

View Enlarge Image
Description:
SEC-E9 CNC Automated Key Cutting Machine
Top 10 Reasons to Get SEC-E9 CNC Automated Key Cutting Machine:
1. Can directly search key bitting number by key code for some keys. No need to search from Instacode
2. Can cut a new key by bitting number, when original key is lost.
3. Support 6 languages including English, French, German, Italian,Portuguese,and Spanish.
4. Can cut veritcal milling, flat milling, internal milling and external milling.
5. Can cut automobile keys,motorcycle keys ,dimple keys, tubular keys, and single-sided standard keys.
6. Can cut Tibbe keys and LDV keys
7. Auxiliary Clamp is available
8. CE Approved
9.?Work on Car, Truck, Motorcycle, House Key, Dimple & Tubular Keys
10. Update Online for Free
SEC-E9 CNC Automated Key Cutting Machine
HOW TO USE SEC-E9: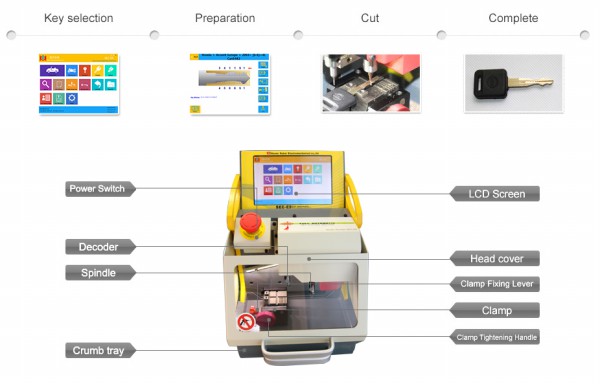 DETAILS PARAMETER: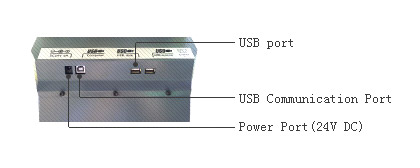 Embedded 8-inch Tablet PC
Embedded 8-inch Tablet PC offers easier? key cutting capability with graphical user interface.




Equipped with both decoder and cutter
Quick and easy duplication of key is available.
Various types of key cutting supported
-Automobile key (including ford tibbe)
-Dimple key
-Single-sided domestic key
-Tubular key




Replaceable vise
Various kinds of replaceable clamps are available for easy key cutting.



Spindle driven by two spindle belts
Supplied with two spindle belts to ensure high-torque key cutting without loss of cutting speed.



Wide and brighter LED light
long-life imported lamp beads

SEC-E9 Clamp Replacement Cautions:
When you fix the clamp by pressing the lever,the clamp origin may be changed or the clamp may get shaken.Make sure to turn the lever to fix the clamp.

????????? Never fix the clamp by pressing ? ? ? ? ? ? ? ? ? ? Make sure to fix the clamp by turning

SEC-E9 Key Fixation

SEC-E9 is a key cutting machine to cut the vehicle key,as well as various kinds of keys.It provides the clamp and stopper to fix various kinds of keys easily and quickly.The key fixing method is as follows.

Top and Botton Clamp:
The key can be held on top or botton of clamp depending on the type of key.Edge or double sided non laser keys are always held on top clamp.Laser key can be held on either,but using bottom clamp is recommended.

??????Fixing a Key on Top Clamp:(Mostly Edge or Double-Sided Non Laser Keys)

??????Fixing a Key on Bottm Clamp:(Mostly Laster Keys)

SEC-E9 Key Cutting? Machine? Stopper:
Stopper shown in the left figure is used to align key correctly.Insert the stopper into proper groove.
The place a key making its shoulder or tip touch this stopper.
Use Right-to-Left Stopper Block to hold laser key with short length.
Standard Key
:(Single & Double-Sided Key)
1.Put the stopper in the stip of Shoulder Align Stop.
2.Place the key shoulder to touch the stopper and fasten the clamp tighten handle to fix the key.