Products
The name:
Autel MaxiIM IM608Pro Key Programming ECU Coding Tool
Model:

View Enlarge Image
Description:
Autel MaxiIM IM608Pro Key Programming ECU Coding Tool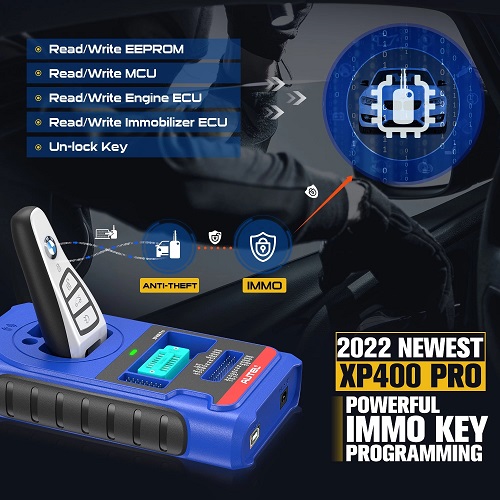 Autel MaxiIM IM608 Pro XP400Pro
The IM608PRO is a comprehensive key and immobilizer programming package of the MaxiIM IM608 Pro 10.1-inch Android touchscreen tablet, XP400Pro key and chip programmer, the wireless JVCI J2534 pass thru programming device and the Key Programming Adapter kit. The IM608 Pro enables key learning directly through the OBDII port for 85 percent of vehicles in North America. The tablet can read the immobilizer pins and password directly from the vehicle and store this information to use later when learning the newly programmed keys to the vehicle. The IM608 Pro is also an advanced diagnostics tablet featuring AutoVIN and AutoSCAN technology to automatically identify the vehicle and perform an all systems scan. The advanced diagnostics functions of the IM608 Pro include the ability to perform active test, coding and adaptations.
Why you need to buy IM608 Pro ?
EEPROM - added 60 chip types, now supports 445 types
MCU– added 32 chip types, now supports 2067 types
Odometer – added 162 chip types, support 171 types
Engine ECU – added 1 chip type, now supports 41 chip types
Immobilizer ECU – added 3 chip types, now supports 181 chip types, Key unlock – supports 11 key types
BMW EWS3 key learning , Mercedes-Benz W209 EIZ read/write/erase
OEM Mercedes-Benz NEC key learning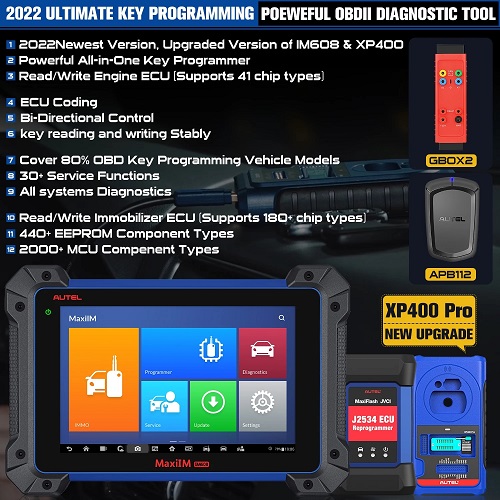 Advanced IMMO Functions
Auto Detect Make/Model/Year/System
Read PIN (All Key Lost), Key Learning
IMMO ECU Reset/Adaption, IMMO ECU Refresh/Coding
VW MQB Key Learning, Mercedes Key Learning
BMW FEM/BDC Key Learning and Adaption, Programming and Coding functions for lMMO related systems: DME,JBE,FRM,CAS, KOMBI,EGS, GwS,ZGW, ELV and FZD
BMW CAS4 Key Learning and Adaption
Mercedes-Benz: Coding SCN for lMMO related systems;DAS, ECU, TCU, ISM and ESL
2015-2018 Land Rover & Jaguar write key via dump
Volvo Smart Key Learning/knob-style smart key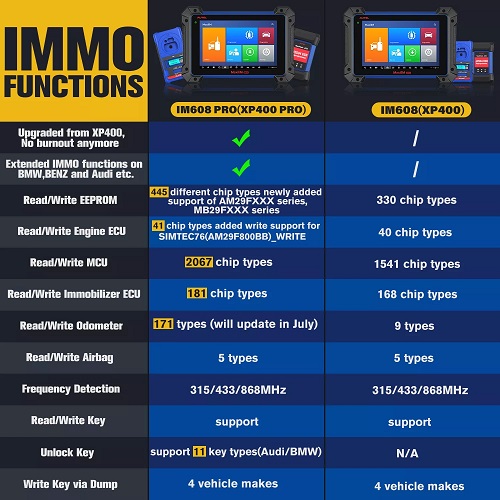 Advanced J2534 ECU Coding&Active Test/Bi-Directional Control
Autel key programming tool IM608 Pro has advanced ECU Coding function, it allows you to unlock hidden functions, improve vehicle performance, or simulate high-end car functions, or get certain components recognized after repair. ECU Coding is not universal, please contact us for consultation.
Autel Scanner IM608 Pro Key programming tool comes with bi-directional control capability which enables technicians to conduct component test on systems, sub-systems or other pars like ABS pump, valves, window, door, roof, lamps and etc to check if the component is working functionally in daily maintenance or after repair.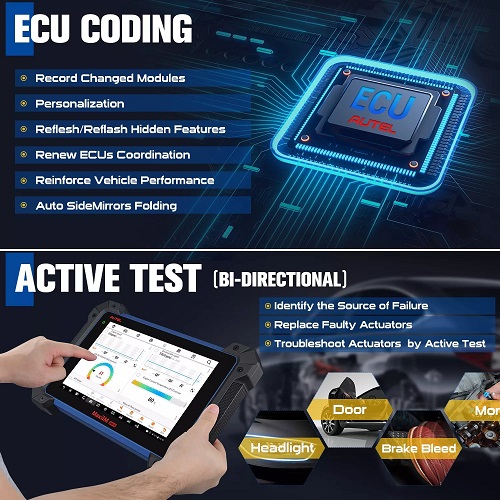 OE-Level All System Diagnostics & 30+ Service Functions
Autel car diagnostic & key programming tool IM608 Pro has the same level as MK908 and MK908Pro, it can access to all the electronic system of the vehicle to perform OE level diagnosis to read and clear DTCs, view live data in text, graph, or waveform, retrieve ECU information, conduct active test on various systems, ECU coding and etc.
Auto key programming tool MaxiIM IM608 Pro is also supported to over 30 service functions that every mechanic needs for daily service and maintenance performances including:
Oil Service Reset, ABS Auto bleeding, Steering Angle Sensor Relearn/ Reset, Parking Brake Pad Relearn After Replacement, Battery Registration and Reset, Diesel Particulate Filter Regeneration, Injector Coding, Throttle, ECU Coding , IMMO Keys, WIN DR ROOF, Seats, Odometer, Lang Change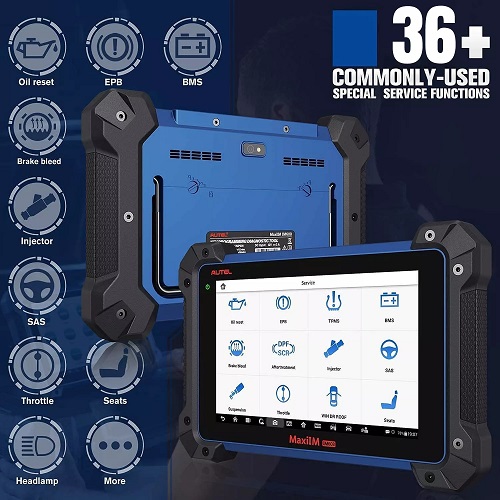 XP400 Pro adds support for following Chips:
1.EEPROM-->AMD-->AM29FXXX series chip
2.EEPROM--> FUJITSU-->MB29FXXX series chip
3.EEPROM-->ST-->M29FXXX series chip
4.Engine control module-->ST-->M29FXXX series chip
5.IMMO-->BENZ-->ESL_W209_W906 (Motorola) read/write/erase function
6.IMMO-->BMW-->EWS3 module read/write function
7.REMOTE_RENEW(renew key)-->NEC-->V51 and V5 chip read/write/erase
XP400 Pro adds support for following Adapter Board:
1.APB113 PCF79XX adapter board
2.APB114 EWS3 adapter board
3.APB115 NEC Adapter board
4.APB118 NEC ELV adapter board
5.APB119 TB28FXXX adapter board
6.APB120 TMS370 adapter board
7.APB121 AM29FXXX adapter board
8.APB122 AM29FXXX adapter board 1
9.APB123 AM29FXXX adapter board 2
10.APB126 M35080/D80 adapter board
11.APB127 MC68HC0(7)05BXX adapter board
12.APB128 MC68HC05X32 adapter board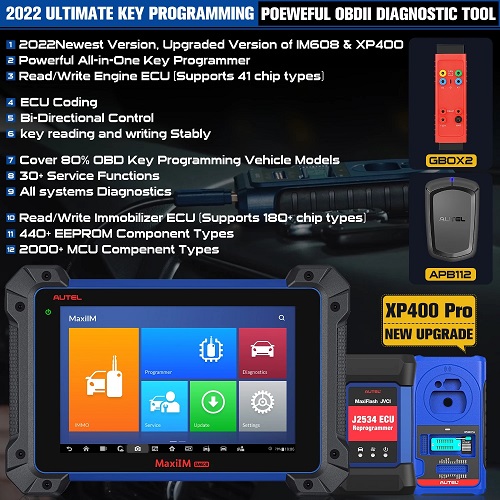 Autel G-BOX 2:
Supports fast mode on vehicle and bench when all keys of Mercedes-Benz vehicles using the DAS3 EIS/EZS are lost; Reads and writes Bosch engine ECU on F chassis of BMW and MQB of Volkswagen;
Autel APB112:
Collect the data sent from the ignition coil, identify the ignition coil troubles , 46, 4D key chip data collection and key simulation,Toyota/ Lexus smart key all key lost
Autel IMKPA:
IMKPA is a Key Programming Adapter Kit, compatible with the XP400Pro Key & Chip Programmer. Includes 12 adapters for the XP400Pro that enable Read/Write/Erase for Mercedes Benz ESL_W209 / W906 Data, Mercedes Benz NEC Key Learning, BMW EWS3 Key Learning and. Volkswagen/AUDI/BMW/Benz Key Unlock. Compatible with the IM608/IM608PRO and IM508 with XP400Pro.
Related Product
More products