Products
The name:
VAS 5054A ODIS V4.23 Bluetooth Support UDS Protocol With OKI Chip
Model:

View Enlarge Image
Description:
Top 6 Reasons To Get VAS5054A:

1. With OKI Chip
2. Support UDS Protocol
3. Multi-languages:English/Japanese/Portuguese/Romanian/Korean/Dutch/Polish/Turkish/Spanish/French/Italian/Croatian/
Danish/German/Swedish/Finnish/Slovenian/Czech/Russian/Greek/Chinese
4. Supported Car Models: VW, AUDI, SKODA, SEAT Bentley and Lamborghini
5. Bluetooth Version(Bluetooth Connection Password: 082145725)
6. Update By CD

Note:
1. VAS 5054A hardware support online coding, but our software does not support. Need get software from VW dealer for online coding function.
2. If you need the software for Lamborghini, Bentley, please leave us information when order
VAS 5054A Software Download:
Good news for sharing! Here you can free download ODIS 3.1.3 + Postsetup+ Launcher+ Certificate for ODIS 2017+ ODIS S 3.1.3
ODIS E 6.7.5 VMware WIN 7 32bit+ ODIS Flash Data!

VAS 5054A ODIS V4.23 Computer Windows System Requirements:
Windows System Language: American English
Win 7 Professional version
System C:// have to be NTFS format
C:// need to have at least 40GB space for installing VAS 5054A
VAS 5054A Descriptions:
The VAS 5054A is a universal diagnostic interface for the vehicles of the Volkswagen Group and all OBD vehicle systems from other manufacturers.
The integrated Bluetooth interface connects the vehicle with a notebook, desktop PC or test system.
No cables are needed for vehicle diagnostics using the VAS 5054A.
The range of the wireless Bluetooth connection is 2 to 5 meters,depending on the environment and the type of Bluetooth adapter used on the PC side.
The Serial Port Profile (SPP) is used for data transfer via Bluetooth. Different Bluetooth security levels are supported.
VAS 5054A Specification:
The vehicle protocols are handled directly in the VAS 5054A.
This ensures fast response times and a reliable real-time behavior independently of the PC operating system. Every time a connection is established, the VAS 5054A software is identified with the version installed on the application PC. The VAS 5054A thus automatically adopts any new features provided after a new software version has been installed on the application PC.
The diagnostic application and the associated Diagnostic Base System are installed on the application PC.
The diagnostic base system can access the VAS 5054A via Bluetooth or USB.
Access Via Bluetooth: After a connection to the VAS 5054A has been set up, the Bluetooth software provides a virtual serial COM port (Bluetooth Serial Port Profile). The Diagnostic Base System uses this COM port to communicate with the VAS 5054A.You need to specify this port when you install the diagnostic application.

Access Via USB: You can also connect the VAS 5054A to the application PC by using the supplied USB cable. Windows detects the VAS 5054A through Plug and Play, and automatically installs the drivers copied when you installed the diagnostic application. Setup of the VAS 5054A is then complete and the device is ready for use by the diagnostic application.
VAS 5054A Vehicle List:
Support AUDI Models:
Audi A3 2013>
Audi Q3 2012>
Audi A4 2008>
Audi A5 2008>
Audi Q5 2009>
Audi Cabriolet 2003>
Audi A6 2011>
Audi A7 2011>
Audi Q7 2007>
Audi A8 2010>
Audi TT 2007>
... ...
Supported Volkswagen-Models
6X/6E - Lupo 1999 >
12 - up! 2012 >
9N1/9N3 - Polo 2002 >
6R - Polo 2010 >
60/61 - Polo 2010 >
1J - Bora 1999 >
1J - Golf 1998 >
1J - Golf 1998 > only USA/Canada
1K - Golf 2004>
Supported Volkswagen Nutzfahrzeuge-Models
2K - Caddy 2004 >
7H/7J - Transporter 2004 >
2C - Caddy 2011 >
7E/7F - Transporter 2010 >
2H - Amarok 2010 >
Supported Seat-Models
AA - Mii 2012 >
7N - Alhambra 2011 >
7M - Alhambra 2001 >
3R - Exeo 2009 >
5P - Altea 2009 > PA
5P - Altea 2004 >
5P - Altea XL/Freetrack 2009 > PA
5P - Altea XL/Freetrack 2007 >
Supported Skoda-Models
Fabia 1999 >
Fabia 2007 >
Octavia 1997 >
Octavia 2004 >
Octavia 2013 >
Roomster 2006 >
Rapid NA (Indien) 2012 >
Superb 2001 >
Superb 2008 >
Yeti 2010 >
Rapid NH (EU) 2013 >
Citigo 2012 ... ...
Supported Bentley-Models
Continental GT 2004>
Continental GT 2012>
Continental GT Diamond Series 2007
Continental GT Speed 2008>
Continental Supersports 2010>
Continental Flying Spur 2005 ... ...
Supported Lamborghini-Models
Gallardo MY09-10-11-12
Aventador LP700-4


... ... Detail about vas5054a vehicle list pls chack the PDF at the top.



VAS5054 and VCDs vagcom interface test results:
1.) VCDS never calibrate RVC, even if you follow instruction, for VAS is 5 min.
2.) VCDS is simpler, clear, faster in use, but for expert – VCDS not supply any special login / security code. Most of the time VAS5054
no need this – VAS login to controller automatic, you no need to know Security Access etc.
3) For special exchange controller, VAS5054 is simple, can easy make copy of coding and all settings.
4) VCDS will help you with a problem, VAS5054 good for guided functions and procedures.
5) To do coding and alignments on VW and Audi, better to have both, vag and vas-pc.
VAS 5054A Feedback:
Talayki: Good adapter. all chips in place. the quality of soldering no questions. connects without problems through usb and bluetooth. works with odis s 3.0.3, odis e 6.6.1 (took from torrent). the units, error t the band of reading. booster yesterday but tried to sew them on skoda octavia a5 fl ''12-sew as it should. satisfied with the purchase. went to Moscow 20 days the track made its way as in China, and in Russian. I recommend the seller. Good adapter. quality is good enough and have all chips layout. connects via usb & bluetooth. works with odis s 3.0.3, odis e 6.6.1. Read block info/group parameters, erase errors, flash very well. i'll definitely recommend this seller.

Sumtaki: Volkswagen Golf 6 / Golf 4 , Bentley, Audi Q7 OK SUPER

getaibose:I eventually bought a VAS5054A clone.It was advertised as'full chip'version with UDS support and OKI cip.I have used it with VAS-PC,ODIS and ODIS engineering and it works good-scanning and erasing fault codes.It scans UDS protocol cars as advertised(tested on 2011 Skoda Fabia TDI).It works through both blue tooth and USB cable. I also flashed my radio with this-thankfully did not face any problems!
VAS 5054A FAQ:
Q: When vas5054 install, an error message display reading "FDICopy()failed:code 4[Corrupt cabinet]".
A: It means 5054A software is not compatible with your computer system, it requires windows XP (XP2 or XP3).

Q: My computer is Windows XP French, is vas 5054a compatible with it?
A: yes, it is. But the C: drive need NTFS format.

Q: Which tool is best to reset the airbag for VW Golf Plus 1.6 FSI 85 KW 2005?
A: 5054A is the best and reliable.

Q: Does 5054A reset the ABS light and SRS (Airbag) light for VW AUDI Skoda SEAT?
A: Yes, It does.

Q: VAS5054A Spanish V19 contains Seat CD?
A: Seat CD has no Spanish language, Spanish CD contain: Basic CD, VW CD, AUDI CD

Q: Does 5054A V19 (Item No: SP33-B) French CD have Skoda CD and Seat CD? Can 5054 be used to diagnose Skoda and Seat?
A: It does not contain French Skoda CD and French Seat CD, and has no guide function, but it can be used to diagnose Skoda and Seat.
It does not need to select car models when install 5054A, no matter what car brand to diagnose, all the 5054A software interface is the same,
the data CD (VW CD, Audi CD, Skoda CD, Seat CD) only play a guiding role, even only install the basis CD, 5054A can be also used to diagnose (PS: guiding function means to step-by-step guide the users to diagnose car)

Q:Can I use the VAS 5054A with Windows versions earlier than Windows XP Service Pack 2?
A:You can basically use Windows versions from Windows 2000 Service Pack 4 onwards.However, there is no specific Bluetooth adapter recommendation
for these operating systems.The recommended Bluetooth adapter VAS5054/2 is only released for the Microsoft Bluetooth software that comes with Windows
XP Service Pack 2. Therefore, no support can be offered if installation problems occur under these operating systems. Windows 95, 98, ME, NT 4 cannot be used.

Q:What specifications does Volkswagen make regarding data security for wireless Bluetooth connections?
A:To prevent unauthorized access to the Remote Diagnosis Head and the application PC by third parties, specific security measures must be taken:
? Use a PIN consisting of at least six digits containing numbers, letters and special characters.
? Use the highest Bluetooth security mode (Security Mode 4).
? Disable all services that are not needed.
? Disable general discovery.

Q:What happens if I move out of range during vehicle diagnostics?
A:The connection is interrupted. The tester will not display an error message at first. Only when you select a function that requires a connection to
the vehicle system, the error message The interface (EDIC) does not respond or The connection to the interface is disrupted will appear.
Move back into range. Click Aborting and restart the vehicle diagnostics.

Q:What happens if the VAS 5054A is out of range when I start the diagnostics?
A:It cannot connect to the diagnostic interface. After a while, the error message The EDIC-API delivers a system error will appear.

Q:Where can I look up the PIN of my VAS 5054A? How can I change the Bluetooth PIN?
A:Use the Diagnostic Interface Configuration Utility program.


The other way is you select language when you install the software,but it must be the same in these two places.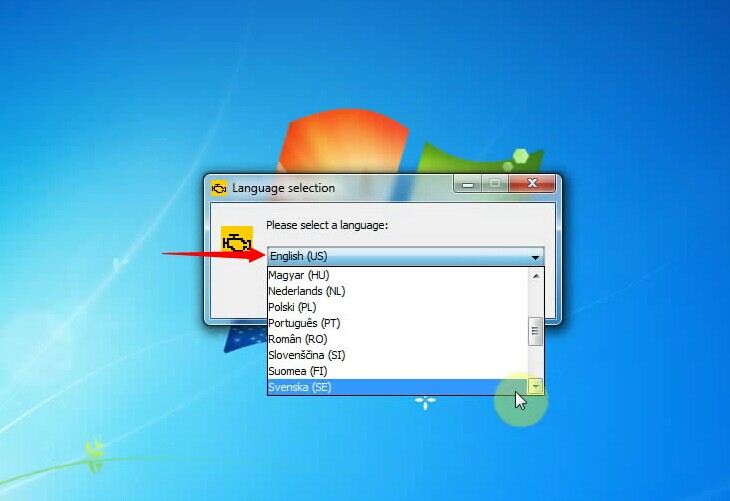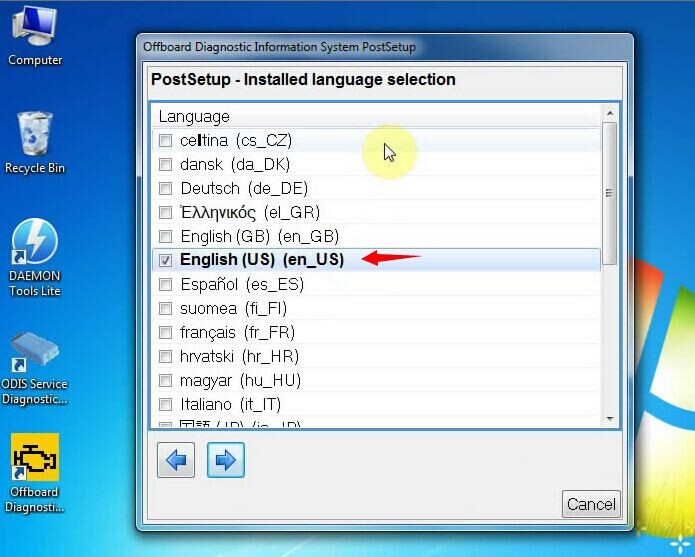 VAS 5054A PCB Board Display: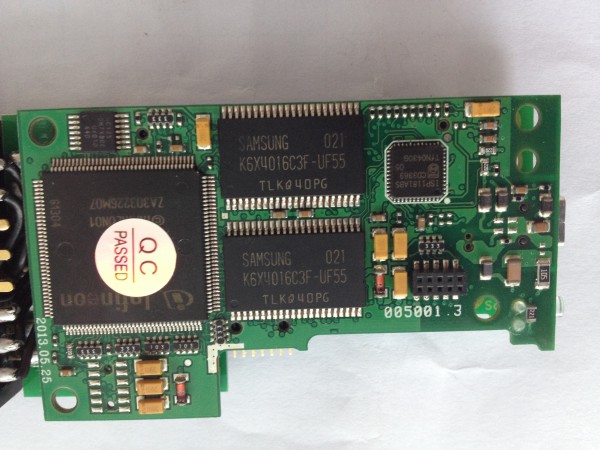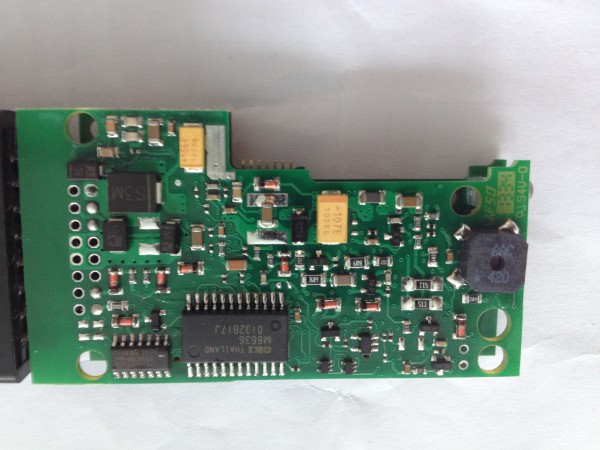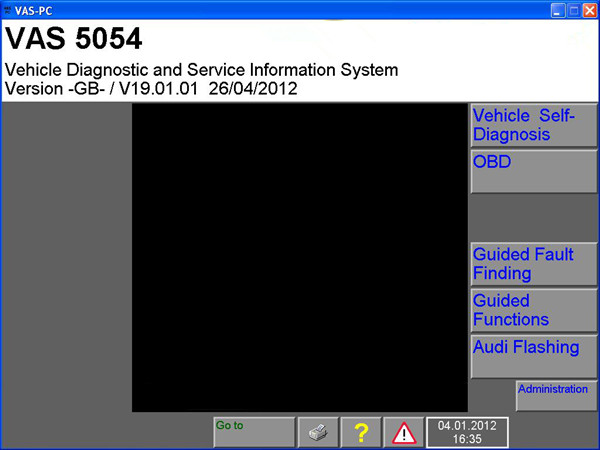 VAS 5054A Package List:
1pc x VAS 5054A Main Unit
1pc x Carry Case